Why HCAI?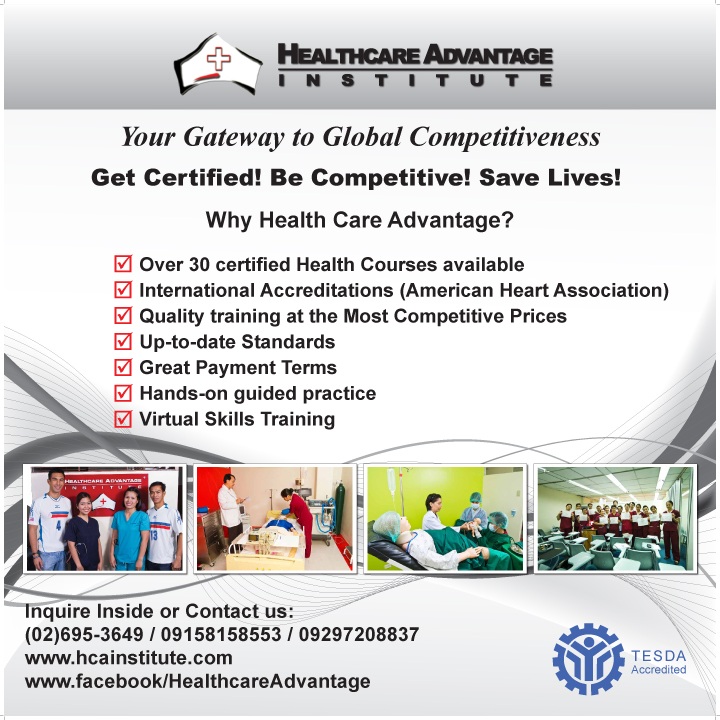 Are you doing your part to elevate healthcare standards in the country?
Do you have what it takes to excel in the global health arena?
Now you can.
Topnotch institutions around the world, including the Philippines have a place reserved for you – but only if you can meet their exacting standards of healthcare. Both the Joint Commission International Accreditation and the Joint Commission on Accreditation of Health Care Organizations affirms that organizations worldwide are working to provide quality clinical care in safe, efficient and well-managed facilities. As more patients seek total quality management of care, local and international institutions are compelled to select and retain only staff members who are prepared to deliver this kind of service.This includes knowledge of and strict adherence to the JCI standards of practice.
Don't be left behind. Responsive to this need of principal employers, a rising number of recruitment agencies are now mandating their workers to be JCI and JCAHO certified prior to deployment.
Why should you work towards JCI Accreditation?
If you want not just a job; but a career as a health practitioner.
You're more likely to have a job placement in local health care organizations.
You become eligible for hiring in JCI-accredited institutions in the Philippines such as St. Luke's Medical Center, Medical City and the UST Hospital.
You're guaranteed preparedness for meeting the challenging demands of patient-focused health care delivery systems embracing the JCI standards.
If you want to pursue a career in the top medical institutions around the world.
Your chances of passing the NCLEX increases.
Once a certificate holder, you're placed in a graduate online database, for hospitals and healthcare institutions worldwide to view and choose from.
Why should healthcare organizations have an updated knowledge on the JCI and JCAHO standards of practice?
It leads to better client satisfaction assures achievement of organizational goals and consequently, sustained corporate growth.
It correlates with significantly improved staff performance.
It paves the way towards revolutionized perception of each member on their roles and responsibilities creates an environment that fosters professionalism
Why should employment agencies give preference to JCI-accredited health practitioners?
This assures that potential employee is up-to-date with current trends in patient management.
Better performance of workers in areas of assignment earns the agency a reputation of selecting only the best people for the job.
This establishes stronger ties with principal employers